Our In-House Architectural Practice
Architecture 100 is our in-house RIBA and ARB registered architectural practice. Architectural planning and design is our first love. We've designed literally thousands of lofts over the years. And the repository for all that knowledge and all that expertise is City Lofts London.
All our projects go through the same two-step process. Each loft project is split into two parts. Part A and Part B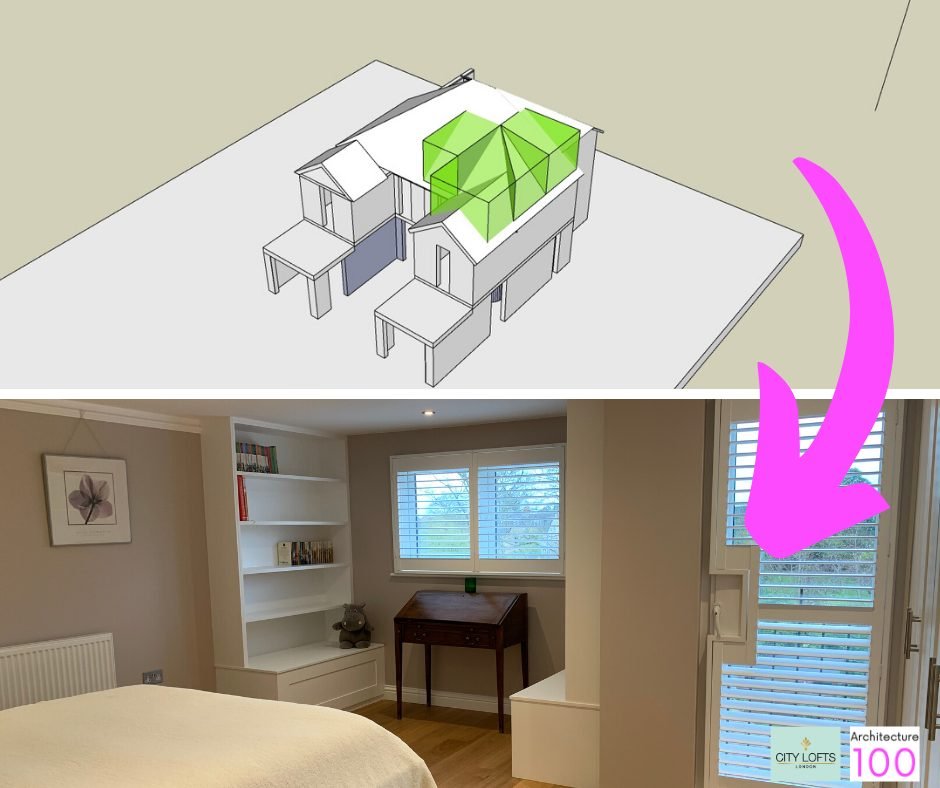 Part A: A is for Architecture
Following a pre-architectural site survey, which we carry out at our own cost, we will present you with a 7-page design report. You will consult with a senior Architectural Surveyor and with this report in your hand, you will know:
How much you a likely to spend on the build, with a high level of accuracy, and;
The optimum route through the planning process, any planning issues that may transpire, and how to avoid them;
Exactly what you need to do next to get the project moving forwards, with minimum fuss and minimum spend.
Then we will then go ahead and produce a beautiful set of plans that are approved and ready to build from. Then comes the next stage.
Part B: B is for Build
Now that you have a set of total house plans that at beautiful, approved and ready to build from, you are ready to build.
 You can either
Ask us to carry on with the rest of the project

Find your own contractor

Ask us to project manage the build
 Easy as that.
Why it is imperative to separate the architectural phase from the build phase.
Architecture 100 is one of a kind. We are Architects-And-Contractors-In-One. As recipients of the FMB's Britain's best service award, we are obliged to provide free advice to homeowners in distress.
We do so at shows across the south east including the Ideal Home Show, Grand Designs Live, Renovation Show and more. Homeowners share their stories and plans and want to know how their home improvement nightmare can be fixed.
90% of our solutions are a variation of the same advice – invest in a proper set of plans that actually work. Drawings have to satisfy 4 conflicting priorities; planning rules, structural schematics, building regulation and the clients' priorities.
However, problems occur when these four things do not align. Flaws embedded in the plans travel through the whole design and planning process, growing into a mess that is painful, unpredictable and expensive to fix when building work actually starts.
The only way to avoid this is by producing a set of plans that work from the beginning, designed with the end in mind. Plans that satisfy the planning department, satisfy the structural engineer, satisfy building regulations and importantly give your home exactly what it needs.
There is a natural conflict of interest when the builder is also the designer – they'll do what suits them. Vanilla, samey-same, cookie-cut plans. Infact, with a fully specified set of plans you can go to any contractor with bullet-proof confidence, knowing that you will be getting bang-on accurate quotes because the drawings leave zero room for error.
Separating the design from the build puts you in control
We understand that homeowners want a one-stop-shop solution to for the whole loft conversion. And that's what you're getting, but with one massive advantage. At the end of the architectural phase of the project, YOU DECIDE what to do next.
You can stick with us for the rest of the project, you can find another contractor or you can ask us to project manage the contractor to ensure that what has been designed is what gets built, without deviation.
So, you are not stuck in an expensive and risky contract with a specialist firm for everything, and importantly, are protected against the Wild West here-today-gone-tomorrow rabble.
The end result is much better
You'll get exactly what you wanted, and more. By allowing us to focus purely on the design and planning phase, you will leverage all our planning know-how and design skills and have them work much harder for you and your home. (And here's a secret, our biggest clients are other builders. They love using us because the drawings are site ready and they just work – no fuss, no drama).
We think this approach work best. In fact the Richmond Chamber of Commerce love it too. That's why we won the best service business in Richmond award in 2019 and Best Professional Practice and commended Best Business for Environmental Sustainability and Best Small Business in 2020. 🙂
Let's talk more. Arrange a call to speak with the team and let's get your loft conversion plans moving forward.
For a Free Quote Get In Touch With City Lofts Today
Enquire today for a free ebook on getting your dream loft conversion. Alternatively you can call us directly on 020 8898 8299.