So for us urbanites in the concrete metropolis it's seems a pretty obvious enquiry, but for completeness here's a quick lowdown on exactly what a loft extension is, and what a loft extension is not:
What a loft extension is not:
The decade from the late 1970's to late 1980's it became popular for families up and down the country to look for ways to give themselves a little extra household space. During this time ground floor extensions were nowhere near as prevalent as they are today so folks decided to repatriate some of the dead space in the attic, for activities like clean/organized storage space, setting up the train set or other such hobby or a mini library for vinyl collections.
Now typically this "loft extension" involved little more knocking up some timber stud partitions within the roof slope to make a 'shoe box' within the attic, still accessed by ladder. The eves space on the other side would be accessed through small hatches, and could be used for storing luggage, golf clubs and the Christmas tree.
A bit of old carpet would be laid down and a plug-in electrical heater switched on and hey presto, a bit of extra space to hide in when the Mother-in-Law came over to visit.
As folks started using the 'loft extension' more, skylights were fitted to allow in daylight, and the central heating circuit was extended up and a radiator added too. Cosy. So cosy in fact that some folks threw a mattress down, plugged in the alarm clock and climbed up the ladder to bed every night.
Great British ingenuity, right? Hhm. Not quite. These cosy little shoeboxes were and are, death traps. Not least because of dodgy electrics and the house structure not being able to take the additional weight of stuff added up in the attic.
Shockingly we see so many of these shoeboxes around town, especially in East London where a lot of the Victorian housing stock is 2 up 2 down and the home owners have opted to shoebox rather than move to larger accommodation.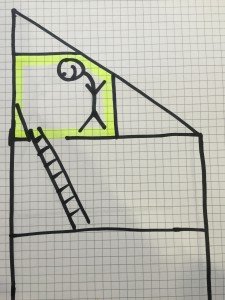 So if that's not a loft extension, what is a loft extension?
Well the principle is the same; you take what is otherwise dead space and transform it into something useful.
A proper, bona fide loft extension is completely legal and conforms to building regulations. It isn't just a shoebox crowbarred into a dusty attic but is a complete new floor added to the top of your home, with bedroom, maybe two, and additional bathroom too. The rooms and spaces in the loft extension are properly lit and flooded with natural daylight from all aspects, including the new set of stairs leading up from the floor below.
The building work is inspected by the local authority and where necessary planning consent or certificate of lawful development is issued by the planning office. At the end of the job a completion certificate is issued which states in black and white that the loft extension has been built completely legally and to the correct British standards.
In addition to the loft extension adding between 25%-40% extra square forage to the house, property pundits agree that it is the soundest investment one can make in their home. This is because a loft extension will give you more space than a ground story addition, for less money; and this exponentially increases the value of your home.
For every £1 spent of a loft conversion, our clients typically make £2 back, and in most cases a lot more.

City Lofts London – award-winning builders
0845 519 4321
PS stuck for interiors inspiration? Look no further